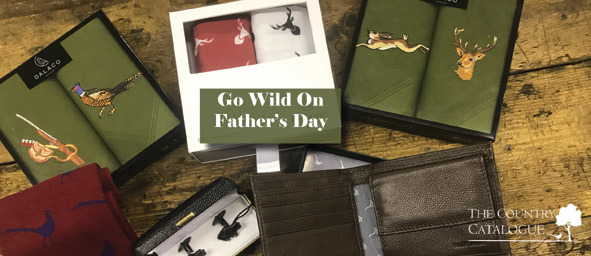 In the UK, Father's Day is traditionally celebrated on the 3rd Sunday in June, which this year falls on 18th June. Fatherhood has been celebrated in Catholic Europe since the Middle Ages or even earlier. However, Father's Day as we know it, is thought to have originated in the USA in the early 1900s and is now a permanent national holiday there.
Inspired by the American's idea of Father's Day, the UK followed suit in the 1960s and Father's Day is now firmly established here. Although not a public holiday in the UK, Father's Day is a special day to celebrate fathers and give thanks for the wonderful role they play in our lives. Cards, presents and visits to Dad are customary to mark the occasion.
However, we all know that men are notoriously hard to buy presents for! So with Father's Day fast approaching, The Country Catalogue is here to help you choose that all important gift. Whether your fantastic father is shooting mad, dog crazy, a hardworking farmer or simply a country loving Dad, then you're sure to find something for him in our gift section.
For the shooting enthusiast we have almost endless suggestions. Cartridge coasters and pheasant mugs, hip flasks and certificate wallets, handkerchiefs and shooting ties, there's just so much to choose from. No doubt most Dads who shoot would agree with the very apt caption on our figurine of a gun on his peg which states "A bad day shooting is still better than working"!
Dog lovers are sure to like our Dog Treat Tin from the wonderful Wrendale Designs, especially if you fill it with our Honey's Choice Natural Dog Treats. A cosy throw depicting a pair of Labradors is bound to be appreciated or a pair of retriever book ends is perfect for a Dad who enjoys reading. Always popular are our ties with Labradors or Springer Spaniels on them
Farming fathers will love our tractor cufflinks or a tiny clock in a replica four wheel drive makes an unusual Father's Day gift. Farm Animals china from Lucy Green Designs is now so popular and perfect for farmhouse kitchens. You could even put together a Lucy Green Designs plate, mug and bowl to create a special individual place setting for Dad.
Dads who live in the country, or aspire to lead the lifestyle, will certainly be glad of a Seeland Boot Bag or a Boot Rack to store those dirty wellingtons. A Quill Garden Bird Drinker is a novel idea for fathers or a cast iron tool rack to hang his tools on is a useful idea for a practical, garden loving Dad.
With your present choice all sorted, you just need to arrange your visit to that all important man in your life