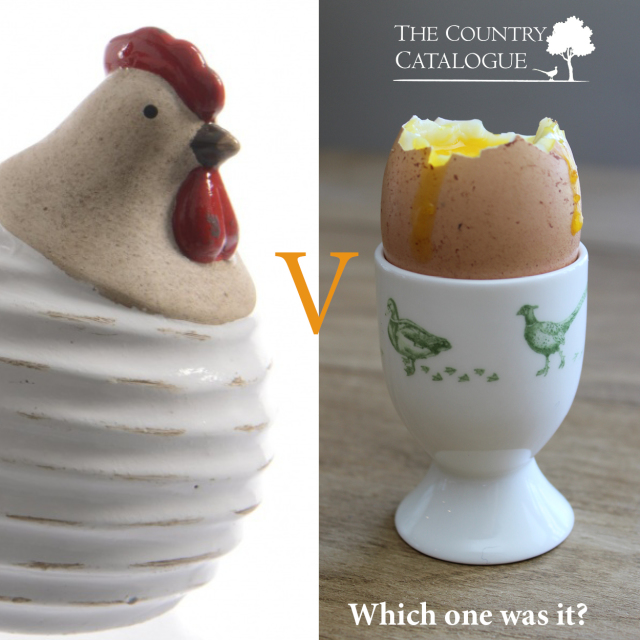 With just under three weeks to go until Easter, now might be a good time to raise that thorny issue - which came first the chicken or the egg?
Here at The Country Catalogue we had a quick office survey and, overwhelmingly, we went with chicken.
That could well be to do with the fact we love poultry-themed products and have so many fantastic ones in the shop this year! (we have egg cups too....)
So, that got us thinking - has anyone ever solved this conundrum? And yes, it was over a lunchtime boss :)
A quick bit of Googling showed that this question was actually asked to Time Magazine last year. This is a magazine that has over 3 million readers so we figured this must be serious!
According to Time, and lots of other clever people, this question has quite a lot of history. In fact apparently Aristotle was pondering it in ancient Greece.
Other mentions in history include the Italian natural historian Ulysse Aldrovandi who was reported as saying: "It is stated in the sacred books that the hen existed first. These books teach that animals were created at the beginning of the world; hence the hen did not come from the egg but from nothing."
Recently some scientists did write about "how a particular protein required for chicken egg shell formation was only found in chicken ovaries." This was then reported as evidence that the chicken was first, but apparently even the scientists themselves weren't 100% convinced!
Other theories, Time reports, argue that if we believe that birds evolved from dinosaurs then the oldest fossilised dinosaur eggs found were 190 million of years ago and birds didn't evolve until 150 million years ago then technically a 'bird egg' could be seen as coming first before a bird actually evolved...
Still with us? well American astrophysicist and science communicator (what is a science communicator exactly?) Neil deGrasse Tyson endorsed the idea of an ancient 'not-quite-a-chicken bird' laying the egg which would grow up to be an actual chicken.
Still don't get it? We're not sure we do either to be honest.....
So soothe your brain and have a look at our lovely chicken (and egg, pheasant and hare!) themed Easter products instead.