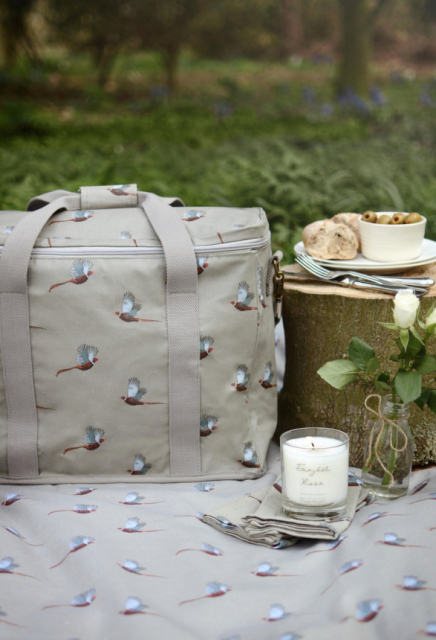 Summer is just around the corner, meaning Country Fairs across the country will start to take place. As we all know, British Summertime weather can be extremely temperamental. A beautiful hot sunny day can overnight turn into grey clouds and rain without much warning. To ensure you are fully prepared for your days out walking around Country Fairs, take a look at The Country Catalogue's Top Picks for Country Fairs. If like us you are from Dorset, consider visiting Evershot Country Fair or Kingston Maurward Open Day and Country Fair.
For those rare hot sunny days, The Country Catalogue highly recommends Sophie Allport Pheasant Oilcloth Picnic Bag.This fabulous cool bag holds a generous 25 litre capacity therefore perfect for packing a picnic for the whole family. Includes extra thick insulation that will keep food and drink cool and fresh for hours, also includes a useful netted pocket on the inside lid and waterproof inner lining. For added country life theme to your country fair picnic, consider Lucy Green Designscrockery in Farm Life or Country Sporting range. Lucy Green Designs - Farm Animals 8.5" Plate or Lucy Green Designs - Game Birds 8.5" Plate are an ideal size for a picnic.
The Country Catalogue's Top Picks for Ladies, starts with the gorgeous Hoggs of Fife Bella Ladies Floral Shirt. It is ideal for Spring/Summer due to its pretty pink and lavender floral print, contrasting lavender trims and coloured buttons which create a beautiful feminine country shirt. With its sculpted hem this semi-fitted shirt can be worn either tucked in or left out. Team with Hoggs of Fife Boston Crushable Hat for hot and sunny days! To ensure you are on trend this summer, take a look at The Country Catalogue print scarf range which includes Fox Print Scarf - Blue, Stag Print Scarf - Maroon or Pheasant Print Scarf -Turquoise. Each scarf is made of 100% polyester and as an alternative you can wear it as a wrap.
For a casual and lightweight Men's Country Shirt, you may want to consider the Checked Fakenham Shirt. Available in a range of colours (Green, Blue or Brown) and at a bargain price of £12.00! Its brushed woven fabric is soft to touch ensuring comfort and ease whilst you are active and on the go. The Checked Fakenham Shirt includes a handy single breast pocket, a pleated back and twin needle stitching for a long lasting product. For a smarter alternative, The Country Cataloguesuggests Musto Twill Check Shirt, made from 100% cotton with anti-microbial fabric finish, includes double button cuffs, left chest pocket and supplied with four collar bones. Both of these shirts will compliment Hoggs of Fife Monarch Moleskin Trousers available in Olive. These trousers are all season wear, keeping you cool in the summer and warm in the winter.
Kiddies Backpacks are an ideal accessory for small Children to carry with them around Country Fairs. The Country Catalogue sells a range of Kiddies Backpacks including designs: Bunny on Ark, Girl on Swing, Pumpkin and Boy on Swing. Measuring approximately 28cm x 25cm x 8cm, they are perfect for carrying around a packed lunch, some pocket money and a small teddy bear to take with them. Each design is brightly coloured and features materials such as felt, cotton and flannel. If it gets chilly, consider Seeland Douglas Kid's Windbeater Jersey.Seeland Douglas Kids Jersey is a warm V-neck knit for youngsters with a Windbeater® lining. The windproof and breathable membrane has been developed and exclusively used by Seeland. Includes an embroidered woodcock emblem on the chest. If you're looking girly alternative, Toggi Galaxy Girls Fleece Sweatshirt in Teal is the ideal pullover when the temperature drops. Features button neck fastening, printed buttons and a pretty colourful trim.
Planning to take the Dog(s) with you? Seeland Dog Water Bowl is extremely useful for when you're on the go as it is collapsible, making it easy to fold away in a pocket or leave in the car. Measures approximately 22cm x 13cm. The Country Catalogue stocks a variety of Dog Leads including Deluxe Slip Lead available in Green or Red, Bisley Slip Lead in Yellow and Basic Slip Lead. Plaited Leather Lanyard is perfect for those who like to keep their dog whistle safe and immediately to hand.
This is just a snippet of our products, head to our website for the full range of Country Clothing and Accessories for the whole family.