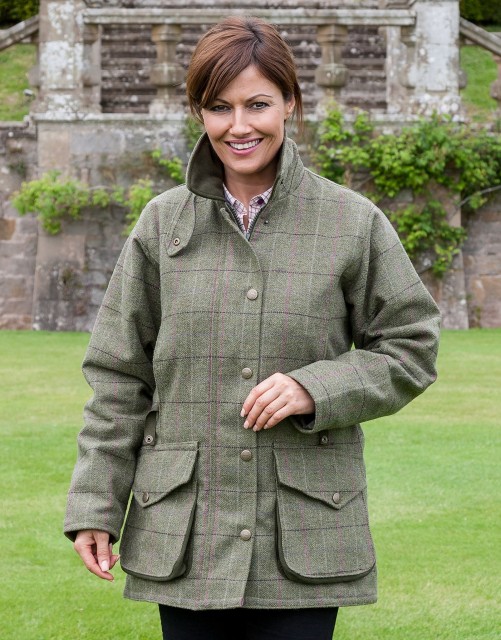 Our staff at The Country Catalogue are always fascinated by the variety of names suppliers come up with for their garments. Very often they're names we've never heard of and we wonder how they originated.
Hoggs of Fife tend to stay true to their Scottish roots and use Scottish place names or names with a Scottish significance. Their Ladies Caledonia Tweed range is one of our best selling ladies ranges. The Caledonia tweed is woven in Italy especially for Hoggs of Fife and is treated with Teflon for extra rain and stain resistance. The Caledonia Tweed Shooting Coat has a flattering cut for ladies and has matching items available. Caledonia Tweed Breeks and the Caledonia Tweed Baseball Cap complete a smart and practical shooting outfit for ladies. The Caledonia Tweed Cartridge-style Bag can be used either as a handbag or a ladies cartridge bag. New this season are the Caledonia tweed and fleece ladies gloves; a welcome addition to the Hoggs of Fife Caledonia range. Caledonia is the Latin name given to Scotland by the Romans. The Caledonia Canal connects the east coast of Scotland with the west coast near Fort William.
A name which will be familiar to everyone is Edinburgh, Scotland's capital city with its famous castle and zoo. It's this name which Hoggs of Fife have given to their ever popular men's tweed range. The Hoggs of Fife Edinburgh Tweed Jacket is an excellent value for money tweed shooting jacket. It's waterproof, windproof and breathable as well as being Teflon coated. Complete your tweed shooting outfit with the Hoggs of Fife Edinburgh Tweed Breeks and either the matching Hoggs of Fife Edinburgh Tweed Cap or the Hoggs of Fife Edinburgh Tweed Baseball Cap. For warmer days, or layering on those cold winter days, the Hoggs of Fife Edinburgh Tweed Waistcoat is also available.
We assume that the Hoggs of Fife Strathmoor Jacket and trousers are named from the Scottish Gaelic word for "large valley" which is Strathmore. The Strathmoor Shooting Jacket is a lightweight waterproof shooting jacket with matching waterproof shooting trousers. Both items are made from strong peached microfibre shell material, ensuring quietness and durability.
Hawick, a town in the Scottish borders and one of the farthest towns from the sea in Scotland, is the name Hoggs of Fife have used for one of their pullovers. The Hoggs of Fife Hawick pullover has a ¼ zip opening and slightly elasticated trim at the cuffs and hem. On the inside of the neck yoke, Hoggs have used an attractive but subtle tartan.
It's not just Scottish place names that Hoggs of Fife use in naming their products. The Ghillie Padded Waterproof Fleece Jacket is a long standing favourite of The Country Catalogue customers. A robust countryman's fleece it will keep you both dry and warm with its waterproof and windproof membrane and padding throughout. As many will know, Ghillie is a Scottish term meaning attendant on a stalking, hunting or fishing expedition. These usually take place in the Scottish Highlands or on a river. A ghillie can also be someone employed as a gamekeeper.
The last name we're looking at which has been used by Hoggs of Fife is Laird. The Hoggs of Fife Laird Shirt takes its name from that traditionally given to the owner of a Scottish estate. Made from 100% superior cotton twill, the Hoggs of Fife Laird Tattersall Shirt can be worn as a shooting shirt or as a smart country shirt. It has an extra long drop tail to ensure that it stays tucked in and has a smart classic collar with fixed collar stiffeners.
Look out for more of our blogs investigating the origin of names used by our suppliers.